---
Interhemispheric differences in cirrus properties from anthropogenic emissions (INCA)
INCA Strategy:
Perform the first measurements ever performed of cirrus and aerosol properties in the Southern Hemisphere and compare these with comparable measurements performed in the Northern Hemisphere.

The measurements will provide information about aerosol and cirrus properties in regions with high and low aerosol loading at southern and northern mid-latitudes:
at equal relative latitudes: mid-latitudes near 50°S and 50°N from Puenta Arenas (Chile, 54S, 68W) and Shannon (Ireland, 53N, 9W)
in equivalent season: autumn (SH: April, NH: October)
using the same set of instruments: ice particles, of interstitial aerosol, of aerosol remainders from ice particles, and of air composition on the DLR-Falcon
using the same observation strategy: young cirrus clouds
within the same year: 2000
Support of Ground-based Lidar: Otto Schrems, AWI Bremerhaven
Support of Remote sensing data: Patrick Minnis, NASA Langley
altitude range up to 13 km.
About 50 flight hours for 10 measurement flights at each location.


Selected Scientific Questions:
Is the onset of cirrus different in clean vs. polluted air masses?
Is the life times of cirrus clouds different in a clean vs. a polluted air mass?
On what type of nuclei do cirrus clouds form?
Can we find differences in nuclei in air over continents vs. air over oceanic regions?
What are the cloud nucleating properties of ambient aerosol particles and particles in air affected by aircraft exhaust?
Can we find evidence for aircraft exhaust particles in thin cirrus clouds ice particles, and in what proportions?
Can the mass loading of carbonaceous aerosols be related to changes in cirrus clouds affected by aircraft exhaust?
Do cirrus influence tropospheric ozone production and loss?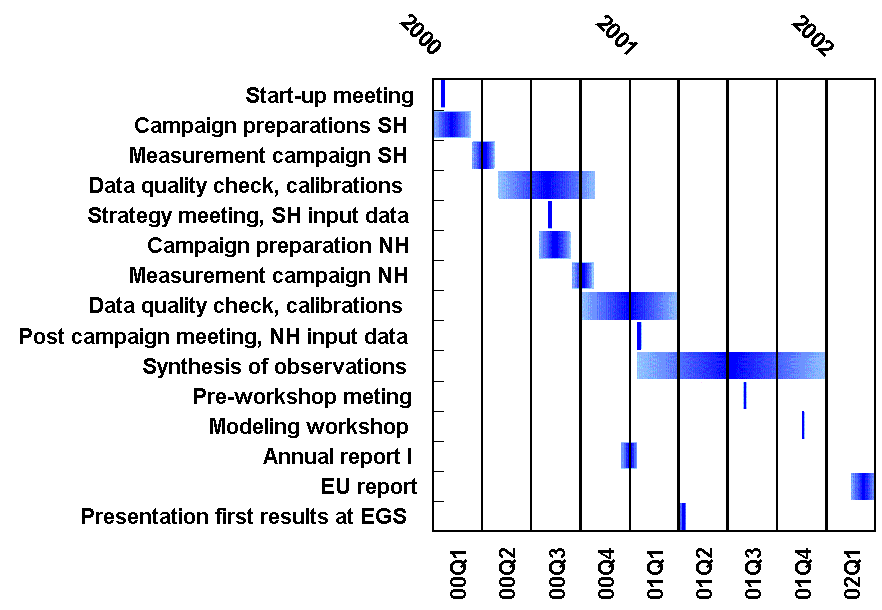 ---