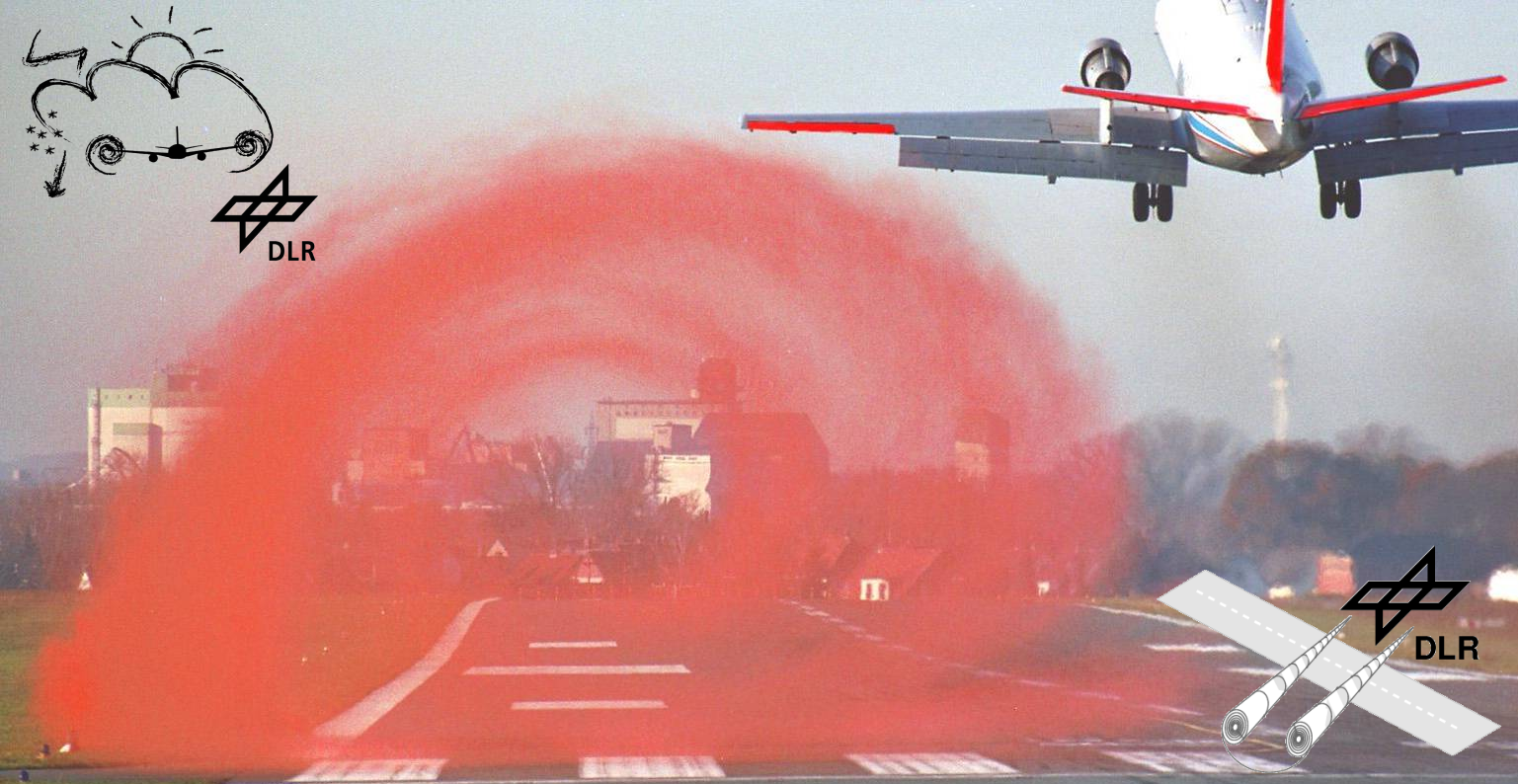 Project Weather & Flying -

Work Package Wake Vortex
Thomas Gerz, Frank Holzäpfel, Klaus Dengler, Robert Baumann, Ingo Hennemann, Markus Hirschberger, Stephan Rahm
last modified April 2012, Frank Holzäpfel
Deutsches Zentrum für Luft- und Raumfahrt
Institut für Physik der Atmosphäre
Oberpfaffenhofen, Germany
Introduction
As a response to the lift aircraft create counterrotating vortices at the wing tips and at the edges of the flaps, the so-called wake vortices (WV). The WVs may exert a serious danger on following aircraft. Therefore, separation standards were established which limit at many airports the capacity during landing and take-off (e.g. at Frankfurt a. M. and London-Heathrow).

DLR Project Weather & Flying - Work Package Wake Vortex:
(involved partner's site)

In the DLR project Wirbelschleppe I & II the WSVBS (Wirbelschleppen Vorhersage- und Beobachtungssystem/Wake Vortex Prediction and Monitoring System) has been developed. The WSVBS has demonstrated its functionality during a three-month measurement campaign at Frankfurt airport. An excerpt of the investigations that were performed in the DLR project Wirbelschleppe is collected in a report pdf-download (10 MB) which also contains a complete list of publications emerging from the project. In January 2008 the DLR has established a follow-on project called Weather & Flying.


The following issues are investigated in the main work package Wake Vortex (Wirbelschleppe):

Work Package W (weather impact):

The WSVBS will be expanded, optimized and fully automatized

improved short-term weather prediction (nowcasting) based on data assimilation and ensemble prediction methods

exploitation of effects of vortex distortion and surface roughness

real-time detection of wake vortices by lidar

Capacity and safety analysis of the WSVBS for landing and departures will be established with the software package WakeScene
A cost benefit study of the WSVBS will be performed
The WSVBS will be integrated into the Integrated Terminal Weather System(ITWS) for Frankfurt airport and will be demonstrated in a campaign at Frankfurt airport 2010
The WSVBS is adapted to the requirements of the users to foster its optional implementation.
For the re-categorization of ICAO aircraft separation, methods and data will be provided that allow for an objective, physically sound and universial optimization of aircraft separations.

Work Package F (Flugzeug/aircraft):


Mitigation of the impact of gusts, wind shear and wake vortices upon the flight characteristics of an aircraft
analysis and specification of airborne sensors
development and test of automated flight control systems
layout, assessment and virtual test of aircraft configurations
European Activities:
For the past and recent European activities on the subject of wake vortices see the homepage of the Thematic Network WAKENET3-Europe.


Cooperation ONERA-DLR:
(involved partner's site)
Since January 1999 ONERA and DLR cooperate in Wake Vortex research.

---