Workshop Meteorological Panel

23 - 25 September 2011
Antalya, Turkey
Summary
Six years ago, September 2005, we had our Meteorological Panel Meeting for the first time in Turkey, Istanbul. Everybody who participated in that meeting will remember the unforgettable hospitality and support of our Turkish hosts. This event was a big success of friendship and international cooperation.
Now we had our second meeting in Turkey, Antalya. One cannot belief, but the organizers surpassed our high expectations again. It started with the lady who picked us up from the airport and welcomed us in our native language. Every participant from abroad enjoyed this service.
After less than one hour we arrived our 4+star hotel at the beach with conference rooms, swimming pools, bars ect., an excellent environment to be creative and also affordable.
Many thanks to all the local people and helpers, especially to Prof. Dr. Zafer Aslan and Dr. Ahmet Tokgözlü, who prepared this excellent meeting.
When the meeting started, everybody was touched very quickly from the Mediterranean lifestyle, with music, gifts and amiable kind of welcoming.
Presentations


Between the lectures the opportunity to continue old and close new friendships were used.

After a break Olivier Liechti, the winner of 2 OSTIV diplomas presented his new developments in 3 papers. Some lecturers could not participate personally, so Prof. Zafer Aslan presented on behalf of them their papers.



But not only meteorological lessons were given, also a scientific one about safety and crashworthiness of glider cockpits was given by Dr. Tony Segal from Great Britain, a medical doctor. This subject was very interesting for our glider pilots in Turkey.
Survivable Loads on the Pilot and the Crashworthiness of Glider Cockpits
Anthony Segal
Abstract (0.1 MByte)


At the end of this hard work with our brains we enjoyed to relax and to learn more about Turkish style of dancing
Excursion
On the next day we had an excursion to the famous ancient Greek city "Side", which is nowadays the best-known classical site in Turkey.
So we have been in Turkey for the second time. It was a very motivating atmosphere and a another excellent opportunity to exchange our knowledge and experiences in meteorology and aviation.
Recommendations
At the end of the OSTIV Meteorological Panel Meeting some goals about meteorology and gliding in Turkey were discussed and recommendations agreed. See Recommendations
Adjurn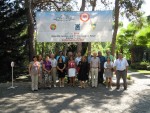 In this spirit I was lucky I could join this meeting with enthusiastic, warmly and very friendly people.
I thank everyone who assisted in the organization and participated in this meeting, which was initially the idea of Prof. Dr. Zafer Aslan.
Dr. Hermann TRIMMEL
Chairman, OSTIV Meteorological Panel
---